Don's RV
Overview
Don Newman drives a 2012 "Stampede" Recreational Vehicle, manufactured by Green Industries.
History
Don aquired the vehicle in December 2012. In early 2014 he had a number of custom modifications installed, mainly by his associate Louis Collins. Some of these modifications are of dubious legal status.
Since late 2014, Don has used the RV as a mobile base of operations while working with a group of super-powered youths.
Description
Length: 7.0m (22' 9")
Width: 3.0m (9' 10")
Height: 2.4m (7' 10")
Weight: 12.5 tons (27,500lbs) fully loaded
Colour: "Forest Green".

Exterior view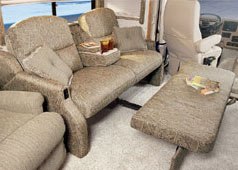 Interior view, forward lounge
Standard Features
Standard features of this model are seating for nine (three in the cab), sleeping accomodation for four (including one fixed and two convertible/folding beds), shower and toilet cubicles, kitchen facilities, microwave oven, refrigerator, deep freeze, and video entertainment unit (with satellite receiver). When at rest, two sections of the RV structure can slide out to give more interior space.

Interior plan
GPS navigation is standard and the vehicle interfaces with all North American city traffic management systems (with passive receiver, vehicle identification transponder, and on-board route planning software).
The top speed generated by the electric drive system is 105kph (65mph) unladen. Under its classification as an interstate vehicle, the RV is not fitted with a hardware speed limiter. Within city boundaries, the vehicle's maximum speed is limited by the traffic management system software. The vehicle has an elecrical power plant with a range of 1300km (800 miles) at a cruising speed of 72kph (45mph) and 170 hours minimum battery life with continuous use of internal electrical systems. Solar cells on the roof, self-aligning for maximum input, will extend these power limits by up to 40% in optimal conditions.
Custom Modifications
Don's RV has some custom modifications installed.
A second petrol-fueled power plant increases the vehicle's top speed to 179kph (111mph) unladen. Fuel capacity for the petrol engine is sufficient for 320km (200 miles) at cruising speed. Emission levels from this power plant make its use illegal in many American cities.
The driver can disable the city traffic transponder, making the vehicle "invisible" to city traffic management systems. This also overrides the software limits on the vehicle's maximum speed within the boundaries of a traffic management system. It does not prevent the vehicle from receiving traffic management signals, so the on-board route planning software is unaffected. Use of this modification is prohibited by United States law.
The vehicle is fully bullet-proof on all sides, including all windows. Additional strengthening features have been added to protect the vehicle and occupants from impact.
The vehicle is equipped with military-grade night vision equipment, manufactured by Green Industries. The system includes forward and rear looking ultra-violet video cameras. A head-up display system paints real-time camera images onto the front windscreen and rear-view mirrors. When the system is active, the driver can see to drive at night with perfect safety.
The vehicle is equipped to recveive and transmit on most radio frequencies, including police and military bands. An orbital transmitter allows two-way satellite internet access.